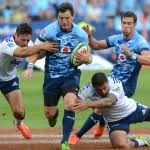 The Blue Bulls host the Pumas in Week 5 of Currie Cup rugby at Loftus on Friday and there is plenty at stake for both sides in terms of the race to seal a play off spot.
Blue Bulls v Pumas, Friday 14th September, Pretoria, Kick Off 19:00
Weather Forecast: - Pretoria
Referee: Rasta Rasivhenge
Assistant referees: Jaco Pretorius, Christopher Allison
Television match official: Lesego Legoete
Blue Bulls:
The Blue Bulls boosted their play off aspirations with hard earned 45-40 victory away to the Griquas last week. The lead changed hands more than once but the Bulls prevailed to earn a bonus point win which moved them into third spot in the standings, 2 points off the pace being set by the Lions and the Sharks and 2 better off than fourth placed Western Province. However the Bulls have played 1 game more than the 2 leaders and 2 games more than Western Province and they still have work to do to claim a top 4 spot with the Pumas 6 points adrift of them in fifth place but also with a game in hand.
The Bulls were double digit favourites for last week's trip to Kimberley so they failed to cover the handicap. They were also worth opposing handicap wise in a 26-10 loss away to the Sharks whilst the margin of their home defeat to the Lions (38-35) was pretty much in line with what the betting markets predicted. The Bulls were well worth following on all fronts when they put the Cheetahs away in Bloem in Round 1 and after this they finish the regular season at home to Western Province next month.
Bulls Remaining Fixtures:
13 October Western Province (Pretoria)
The Handicap, Rugby Betting Show
Catch the show live from 21:00 (South African local time) on Thursday 13th September with a recording of the full show available immediately afterwards.
Pumas:
The Pumas lost 28-12 away to the Sharks in Durban last week, staying well within a plus handicap but the result did little for their hopes of a top 4 finish. They began by easily covering a single digit minus handicap at home to the Griquas with a 42-19 bonus point win but they were subsequently hammered at home by Western Province (57-28) and another defeat here would see them having to climb the proverbial mountain to have any chance of a play off spot.
The Pumas dished out a major hiding to the Bulls in Nelspruit last season but they did lose the return at Loftus in the final round of the regular season by a 20 point margin. If they can pull off a win here and follow up in Bloem next time out they will be right back in the thick of it although their regular season ends with a visit from the Lions.
Pumas Remaining Fixtures:
22 September Cheetahs (Bloem)
12 October Lions (Nelspruit)
Recent Head to Head
2017 Blue Bulls 52-32 Pumas
2017 Pumas 51-15 Blue Bulls
2016 Pumas 14-41 Blue Bulls
2015 Pumas 24-25 Blue Bulls
2014 Pumas 6-37 Blue Bulls
Team News:
Blue Bulls: 15 Divan Rossouw, 14 Jade Stighling, 13 Johnny Kotze, 12 Franco Naude, 11 Duncan Matthews, 10 Manie Libbok, 9 Ivan van Zyl, 8 Hanro Liebenberg (captain), 7 Nic de Jager, 6 Ruan Steenkamp, 5 Eli Snyman, 4 Hendre Stassen, 3 Dayan van der Westhuizen, 2 Jaco Visagie, 1 Matthys Basson
Substitutes: 16 Edgar Marutlulle, 17 Conrad van Vuuuren, 18 Ruan Nortje, 19 Jano Venter, 20 Andre Warner, 21 Tinus de Beer, 22 Dylan Sage
Pumas – 15 Devon Williams, 14 Morné Joubert, 13 Neil Maritz, 12 Ryan Nell, 11 Ruwellyn Isbel, 10 Christopher Smith, 9 Stefan Ungerer, 8 Willie Engelbrecht, 7 Stefan Willemse, 6 Marnus Schoeman, 5 Hugo Kloppers (c), 4 Le Roux Roets, 3 Andrew Beerwinkel, 2 Marko Janse van Rensburg, 1 Khwezi Mona.
Subs: 16 Simon Westraadt, 17 De-Jay Terblanche, 18 Hilton Lobberts, 19 Francois Kleinhans, 20 Abrie Griesel, 21 Kobus Marais, 22 Henko Marais.
The Betting
Handicap
Blue Bulls -14.5 points widely available
Pumas +14.5 points widely available
Note, odds quoted are correct at the time of last update but are subject to change.
Betting Angle
The Pumas are battling to stay in contention for a play off spot and they did stay within the handicap in Durban last week. However, that was significantly bigger number than we have here and the Bulls have the opportunity to strengthen their position in the top 4. Given the Bulls have just 1 more fixture to come, a it's a tough one at home to Western Province, they have to be targeting a 5 pointer here and with that in mind I go with the minus.
Bet: 5 units (1 to 10 scale) Bulls -14.5 points at 9/10
Remember you can have your own say on all this week's matches on our discussion forum