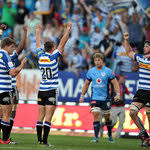 We are heading into the final round of matches in the regular Currie Cup season and this weekend will determine who plays who in the semi finals. We take a look at the latest outright winner betting.
The most crucial game of the tournament so far saw Western Province maintain their unbeaten record with a 50-28 home win over the Sharks two weeks ago. Province now have 4 points worth of daylight over the Sharks at the top of the standings and given their points difference is 106 superior to their nearest rivals any sort of log points return from their visit to Loftus this weekend will secure top spot.
The Sharks will visit the Griquas this weekend and they are favourites to finish second and also claim a home semi final. However if they do come unstuck in Kimberley they could still be collared by the Bulls or even the Lions.
Coming into the final round the Bulls are third, 1 point clear of the fourth place Lions whilst the fifth Pumas, who are a further 4 points in arrears and host the Lions on Friday, still have some hope of gatecrashing the top 4.
Final Round Fixtures
Fri 12 Oct Pumas v Lions Nelspruit 19:00
Sat 13 Oct Griquas v Sharks Kimberley 15:00
Sat 13 Oct Blues Bulls v Western Province Pretoria 17:15
Currie Cup Outright Winner Betting: Prices from Sunbet are correct as of 09:00 on Sunday 7th October but are subject to change.
Western Province 17/20
Golden Lions 12/5
Sharks 13/5
Blue Bulls 18/1
Pumas 100/1
Look out for our trademark previews during the week and also our weekly rugby betting show "The Handicap" which is streamed live on youtube every Thursday night at 21:00. Remember early calls and match day picks from our community are available on our discussion forum.
The Handicap, Rugby Betting Show
Catch the show live from 21:00 (South African local time) on Thursday 11th October with a recording of the full show available immediately afterwards.
If you wish to comment on the show whilst it's live, please use this link to our youtube channel
Remember you can have your own say on all this week's matches on our discussion forum