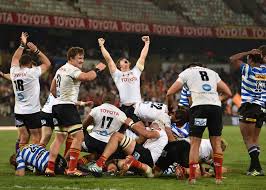 The Cheetahs host the Sharks in the Currie Cup in Bloemfontein on Saturday with the home side are looking to build on a useful midweek win.
Cheetahs v Sharks, Saturday 24th July, Bloemfontein, KO 14:30 (South African time)
Referee: Marius van der Westhuizen
TMO: Paul Mente
Weather Forecast - Bloemfontein
Cheetahs:
The Cheetahs were 5.5 point underdogs for a home fixture against Western Province on Wednesday but they were 11-0 to the good at half time and went on to complete the victory 38-21. They scored 4 tries to secure a bonus point in by far their most convincing display so far.
The Cheetahs scheduled visit to the Lions last weekend was cancelled as was an earlier home game against the Bulls. One other win so far came at home to the Pumas in what was their second outing. The betting suggested a close game and so it proved with the Cheetahs edging it 17-16, holding on at the end of a scrappy contest.
The Cheetahs first action of the tournament came in Round 2 when they crashed to a 31-10 defeat away to the Griquas in Kimberley.
Cheetahs Currie Cup Fixtures and Results
Griquas (a) lost 31-10, Bulls (h) cancelled, Pumas (h) won 17-16, Lions (a) cancelled, WP (h) won 38-21, Sharks (h), WP (a), Lions (h), Sharks (a), Griquas (h), Pumas (a), Bulls (a)
Sharks:
A double header against the British & Irish Lions and recent unrest in KZN has seen the last 3 scheduled Currie Cup outings for the Sharks being cancelled. All 3 of those cancelled matches were home games and the Sharks, who have yet to play in Durban are travelling again.
In earlier rounds the Sharks were beaten 32-31 by Western Province in Cape Town with WP landing a late penalty to snatch victory in a game the Sharks started as marginal favourites. The Sharks started their Currie Cup campaign with a 30-16 victory away to the Griquas, covering a -7.5 point handicap and earning a bonus point with 4 tries.
Sharks Currie Cup Fixtures and Results
Griquas (a) won 30-16, WP (a) lost 32-31, Lions (h) cancelled, Pumas (h) cancelled, Bulls (h) cancelled, Cheetahs (a), Griquas (h), Bulls (a), Pumas (a), Cheetahs (h), Lions (a) WP (h)
Team News
Cheetahs: 15 Clayton Blommetjies, 14 Duncan Saal, 13 David Brits, 12 Siya Masuku, 11 Rosko Specman, 10 Brandon Thomson, 9 Ruan Pienaar (captain), 8 Aidon Davis, 7 Jacques Potgieter, 6 Jeandre Rudolph, 5 Jean Droste, 4 Rynier Bernardo, 3 Hencus van Wyk, 2 Marnus van der Merwe, 1 Aluluthu Tshakweni
Replacements: 16 Louis van der Westhuizen, 17 Cameron Dawson, 18 Conraad van Vuuren, 19 Victor Sekekete, 20 Junior Pokomela, 21 Zinedine Booysen, 22 Reinhardt Fortuin, 23 Chris Smit
Sharks: 15 Anthony Volmink, 14 Marnus Potgieter, 13 Werner Kok, 12 Marius Louw, 11 Thaakir Abrahams, 10 Curwin Bosch, 9 Grant Williams, 8 Phepsi Buthelezi (captain), 7 Dylan Richardson, 6 James Venter, 5 Reniel Hugo, 4 Le Roux Roets, 3 Khutha Mchunu, 2 Kerron van Vuuren, 1 Ntuthuko Mchunu
Replacements: 16 Dan Jooste, 17 MJ Majola, 18 Lourens Adriaanse, 19 Thembelani Bholi, 20 Mpilo Gumede, 21 Cameron Wright, 22 Lionel Cronje, 23 Jeremy Ward
Recent Head to Head
(Currie Cup)
2020 Cheetahs 37–10 Sharks
2019 Cheetahs 51–30 Sharks (semi final)
2019 Sharks 27-20 Cheetahs
2018 Cheetahs 29-33 Sharks
2017 Sharks 45-15 Cheetahs
2017 Cheetahs 47–12 Sharks
2016 Sharks 30-38 Cheetahs
The Betting,
Cheetahs +7.5 points at 9/10
Sharks -6.5 points at 9/10
Note, odds quoted are available at the time of writing but are subject to change.
Betting Angle
This should be another high scoring game and any additional bets will be posted in our forum.
I was initially strong on the Sharks minus but that has weakened a bit as the week has progressed. The Cheetahs may be out on their feet in the 2nd half as they played just 72 hours earlier against WP and a fresh Sharks side can capitalise.
Bet: 4 units Sharks -4.5 2nd half handicap at 9/10 at Sunbet
Subscribe to our free weekly betting mailer which will include our best and value bets below.