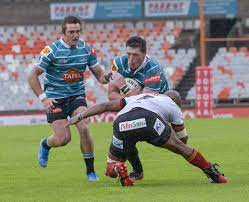 Griquas host the Cheetahs in Kimberley in the first of Saturday's Currie Cup matches. The home side need a positive result to boost their play off hopes whilst the visitors still possess a 100% record.
Griquas v Cheetahs, Saturday 28th May, Kimberley, KO 14:30 (South African time)
Referee: Cwengile Jadezweni
TMO: Christie du Preez
Weather Forecast: - Kimberley
Griquas:
Griquas were on a bye in Round 11 but things still went their way with the Pumas defeat to Western Province meaning they remain in fourth position.
Griquas most recent outing saw them go down 48-38 away to the Bulls. They now return to Kimberley where they have beaten the Pumas, WP and the Lions alongside defeats to the Sharks and the Bulls.
Griquas now have a record of 4 wins and 5 defeats. They come into the weekend 3 points behind the third placed Sharks (with a game in hand) and 1 point clear of the the fifth placed Pumas. After this Griquas travel to meet WP and then the Pumas so this is their final home game of the regular season.
Griquas Currie Cup Fixtures and Results
R1 Cheetahs (a) lost 30-20, R2 Sharks (a) lost 24-23, R3 Pumas (h) won 41-20, R4 WP (h) won 22-20, R5 Bulls (h) lost 53-27, R6 Lions (h) won 49-17, R7 bye, R8 Sharks (h) lost 13-6, R9 Lions (a) won 23-17, R10 Bulls (a) lost 48-38, R11 bye, R12 Cheetahs (h), R13 WP (a), R14 Pumas (a)
Cheetahs:
The Cheetahs 100/% record now spans 9 matches. They thrashed the Sharks 44-15 in Bloem last time out but they are still second in the standings, 1 point behind the Bulls but with a game in hand.
Top position will be fought out by the Cheetahs and the Bulls who will meet in Bleom in the final round. The Cheetahs will also host the Pumas so their destiny in terms of hosting the final (should they get that far) is still very much in their own hands.
When the Cheetahs hosted Griquas in the opening round they won 30-20.
Cheetahs Currie Cup Fixtures and Results
R1 Griquas (h) won 30-20, R2 bye, R3 Bulls (a) won 38-25, R4 Pumas (a) won 28-17, R5 Lions (h) won 66-14, R6 WP (h) won 24-17, R7 Sharks (a) won 29-15, R8 bye, R9 WP (a) won 28-21, R10 Lions (a) won 35-26, R11 Sharks (h) won 44-15, R12 Griquas (a), R13 Pumas (h), R14 Bulls (h)
Team News
Griquas: 15 Ashlon Davids, 14 Munier Hartzenberg, 13 Sango Xamlashe, 12 Rynhardt Jonker, 11 Luther Obi, 10 Alex-Zander Du Plessis, 9 Johan Mulder, 8 Sibabalo Qoma, 7 Hanru Sirgel, 6 Niel Otto (captain), 5 Derik Pretorius, 4 Johan Retief, 3 Janu Botha, 2 Janco Uys, 1 Kudzwai Dube.
Replacements: 16 Gustav du Rand, 17 Eddie Davids, 18 Andries Schutte, 19 Cameron Lindsay, 20 Carl Els, 21 Stefan Ungerer, 22 George Whitehead, 23 Christopher Hollis
Cheetahs: 15 Clayton Blommetjies , 14 Daniel Kasende, 13 David Brits, 12 Frans Steyn, 11 Rosko Specman, 10 Siyabonga Masuku, 9 Ruan Pienaar (captain), 8 Mihlali Mosi, 7 Andisa Ntsila, 6 Gideon van der Merwe, 5 Victor Sekekete, 4 Aidon Davis, 3 Aranos Coetzee, 2 Marnus van der Merwe, 1 Cameron Dawson.
Replacements: 16 Louis van der Westhuizen, 17 Alulutho Tshakweni, 18 Conraad van Vuuren, 19 Ockie Barnard, 20 Jeandré Rudolph, 21 Rewan Kruger, 22 Reinhardt Fortuin, 23 Cohen Jasper
Recent Head to Head
(Currie Cup)
2022 Cheetahs 30-20 Griquas
2021 Cheetahs 33–32 Griquas
2021 Griquas 31-10 Cheetahs
2020 Griquas 18-22 Cheetahs
2019 Cheetahs 68-14 Griquas
2018 Griquas 52-24 Cheetahs
2017 Griquas 59-24 Cheetahs
2017 Cheetahs 25-30 Griquas
2016 Cheetahs 63-26 Griquas
The Betting, Free R25 Sign Up Bonus. Need to open an account? Register here
Griquas +10.5 points at 9/10
Cheetahs -10.5 points at 9/10
Note, odds quoted are available at the time of writing but are subject to change.
Betting Angle
This game is very much where I handicapped it in my Sunday exercise on the Goodforthegame Forum although if pushed I would be leaning towards the Griquas to stay within the cap. It is the points quote that I am interested in seeing though and with the weather looking good and the field no doubt getting harder as we approach midwinter I am definitely in the market for an overs play here. One caution is that the head-to-head between the sides and Griquas have been surprisingly low scoring, but if the quote is right I will definitely be an overs punter here.
Click here for the video preview for Griquas v Cheetahs to see what @TheConductor and @TheCroweTips are betting on
For bets from other punters keep an eye on our forum
Update 27 May 14h23
A very late call but fancy points and Griquas overs
BET: 4 units Griquas over 24.5 at 0.89/1 at Sunbet
Note, odds quoted are available at the time of writing but are subject to change.
More tips, news and views are available on the weekly rugby thread on our discussion forum. If you are new to our community you can open an account here.
Subscribe to our free weekly betting mailer which will include our best and value bets below.