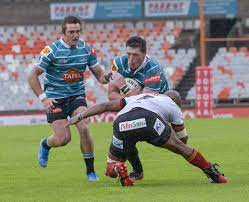 The first action of Round 13 of the Currie Cup sees Western Province host the Griquas in Stellenbosch on Friday and the visitors are looking to strengthen their hand in the race for the play offs.
Western Province v Griquas, Friday 3rd June, Stellenbosch, KO 16:00 (South African time)
Referee: Morne Ferreira
TMO: Marius Jonker
Weather Forecast – Stellenbosch
Western Province:
Province were in Johannesburg for a clash with the previously win less Lions last week, they went down 33-10 and any slim hopes of making a late bid for the play offs have all but evaporated.
WP had come away from Nelspruit with a 23-17 win over the Pumas in their penultimate outing. That was only their second victory of the tournament and their first since they beat the Lions (48-36) in Cape Town in the opening round.
Province have now picked up just 13 log points and they finished the previous round second from bottom in the standings, 11 behind the fourth placed Sharks and just 3 in front of the Lions. After this WP finish up with a home game against the Sharks.
WP Currie Cup Fixtures and Results
R1 Lions (h) won 48-36, R2 Bulls (h) lost 40-21, R3 Sharks (a) lost 35-20, R4 Griquas (a) lost 22-20, R5 (bye), R6 Cheetahs (a) lost 24-17, R7 Pumas (h) lost 37-11, R8 Bulls (a) lost 45-34, R9 Cheetahs (h) lost 28-21, R10 bye, R11 Pumas (a) won 23-17, R12 Lions (a) lost 33-10, R13 Griquas (h), R14 Sharks (h)
Griquas:
Griquas gave their play off hopes a huge boost last weekend. They ended the Cheetahs 100% record and in some style, coming out on top of their clash in Kimberley 46-18. They had a 4 try bonus point wrapped up inside 30 minutes and never let up thereafter.
Griquas previous outing saw them go down 48-38 away to the Bulls but they now have a record of 5 wins and 5 defeats and finished the round in third place, 2 points ahead of the Sharks and 4 clear of the Pumas with this match and a visit to the Pumas still to come.
When Griquas hosted WP in Kimberley back in Round 4 they edged a tight game 22-20
Griquas Currie Cup Fixtures and Results
R1 Cheetahs (a) lost 30-20, R2 Sharks (a) lost 24-23, R3 Pumas (h) won 41-20, R4 WP (h) won 22-20, R5 Bulls (h) lost 53-27, R6 Lions (h) won 49-17, R7 bye, R8 Sharks (h) lost 13-6, R9 Lions (a) won 23-17, R10 Bulls (a) lost 48-38, R11 bye, R12 Cheetahs (h) won 46-18, R13 WP (a), R14 Pumas (a)
Team News
Western Province: 15 Tristan Leyds, 14 Sergeal Petersen, 13 Juan de Jongh, 12 Cornel Smit, 11 Angelo Davids, 10 Timothy Swiel (c), 9 Thomas Bursey, 8 Keke Morabe, 7 Marcel Theunissen, 6 Junior Pokomela, 5 Ben-Jason Dixon, 4 Simon Miller, 3 Sazi Sandi, 2 Jacques van Zyl, 1 Ali Vermaak.
Replacements: 16 Chad Solomon, 17 Kwenzo Blose, 18 Lee-Marvin Mazibuko, 19 Hilton Lobberts, 20 Shaine Orderson, 21 Bobby Alexander, 22 Mnombo Zwelendaba, 23 Ebenezer Tshimanga
Griquas: 15 Ashlon Davids, 14 Munier Hartzenberg, 13 Sango Xamlashe, 12 Rynhardt Jonker, 11 Luther Obi, 10 Alex-Zander Du Plessis, 9 Johan Mulder, 8 Sibabalo Qoma, 7 Hanru Sirgel, 6 Niel Otto (captain), 5 Derik Pretorius, 4 Johan Retief, 3 Janu Botha, 2 Simon Westraadt,, 1 Kudzwai Dube.
Replacements: 16 Janco Uys, 17 Eddie Davids, 18 Andries Schutte, 19 Cameron Lindsay, 20 Werner Gouws, 21 Stefan Ungerer, 22 George Whitehead, 23 Christopher Hollis
Recent Head to Head
(Currie Cup)
2022 Griquas 22-20 WP
2021 Griquas 46-25 WP
2021 WP 28–30 Griquas
2020 WP 34-17 Griquas
2019 Griquas 27-23 WP
2018 WP 38-12 Griquas
2017 WP 55-27 Griquas
2017 Griquas 44-34 WP
2016 Griquas 31-52 WP
The Betting, Free R25 Sign Up Bonus. Need to open an account? Register here
Western Province +4.5 points at 9/10
Griquas -3.5 points at 9/10
Note, odds quoted are available at the time of writing but are subject to change.
Betting Angle
I handicapped this game at WP +8.5 as Griquas have plenty to play for and WP have a really weak side with their main players all involved in the URC quarters. There was some early -1.5 Griquas which I have missed but I am happy to take the -3.5 still available.
Click here for the video preview of WP v Griquas and get the views of @TheConductor and @Patches
Click here for the rugby betting thread in our forum where punters share information and bets
BET: 5 units Griquas -3.5 at 9/10 at Betxchange
Note, odds quoted are available at the time of writing but are subject to change.
More tips, news and views are available on the weekly rugby thread on our discussion forum. If you are new to our community you can open an account here.
Subscribe to our free weekly betting mailer which will include our best and value bets below.