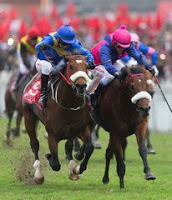 Fancy a share in 2 thoroughbred racehorses? The lads at Goodforthegame are getting involved thanks to Gary Lentin from GGGaming.
Gary and Brent chat every week live on You Tube and while they usually focus on sports betting they have often spoken about a horse racing syndicate for the lads and lasses who frequent the Goodforthegame website and You Tube channel.
The talk came to a head on last weeks show when Gary announced he had purchased 50% shares in 2 horses (lots 32 and 96) at the recent Ready To Run sale.
With Gary and GGGaming involved fun is guaranteed and Gary is offering shares to the Goodforthegame community.
Taking the purchase price, VAT, the 1st few months training and race fees into account the amount has been set at 100k with 10 shares available at 10k each. This is for the 50% share Gary has purchased and he will take up any shortfall.
If you are keen to get involved then e-mail This email address is being protected from spambots. You need JavaScript enabled to view it. with how many shares you want.
We decided to restrict it to 10 shares to make it manageable but if for example you want to be involved but can't afford the 10k right now then we will link like-minded individuals up at a minimum buy in from R2.5k each. So if someone wants to spend 5k he will get a ½ a share and will be paired with another ½ a shareholder or a pair of ¼ shareholders.
We won't have to wait long for the horses to race and they are under the expert guidance of Lucky Houdalakis a leading trainer.
We could make some money, it may end up costing us a bit but one thing is for sure we will have a great time cheering our horses home.